Our Facility
Lotus Cosmetic Surgery Centre + Medispa is conveniently located at 199 MacNab Street South, one block from St. Joseph's Healthcare in Hamilton, Ontario. After being greeted by our friendly staff upon your arrival, Dr. Hynes will meet with you for your cosmetic consultation in a comfortable and confidential setting. He will discuss your aesthetic goals and recommend which technique or techniques are best suited to your individual needs.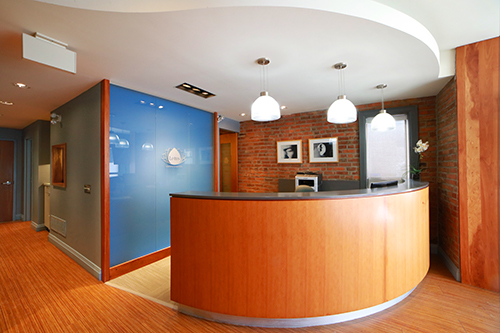 Lotus Cosmetic Surgery Centre is a newly renovated, state-of-the-art, fully accredited private surgical facility. The full range of Cosmetic Procedures can be performed in our Operating Room. Expert anaesthetists and registered nurses will be closely involved in your care before, during, and after your surgery.
The second floor of our facility is devoted to the Lotus Cosmetic Medispa. We offer a full range of non-invasive, up-to-date medical aesthetic treatments in a pleasing and relaxed environment. These include: cosmetic injectables (micro-needling, Sclerotherapy and Latisse®), chemical peels and skin care products.
We welcome you to come and experience the difference you will feel at Lotus! Lotus Cosmetic Surgery Centre + Medispa Hamilton, Ontario. Rediscover, Enhance, Reshape!
Discover what over 1500 patients a year from Hamilton, Burlington, Ancaster, Oakville, Guelph, Kitchener, St Catharines, Niagara Falls, Brantford, Cambridge, Dundas, Grimsby, Hagersville, Paris, Port Dover, Waterdown and beyond already have!
Together we can achieve your aesthetic goals.
Dr. Nicolas Hynes, MSc, MD, FRCS(C)
Cosmetic + Reconstructive Plastic Surgeon
Medical Director of Lotus Cosmetic Surgery Centre & Medispa
199 MacNab Street South, Hamilton, Ontario L8P 3C8
Telephone 905-645-5640 Toll Free: 1-866-645-5743